8th Hussars 175th Anniversary Itinerary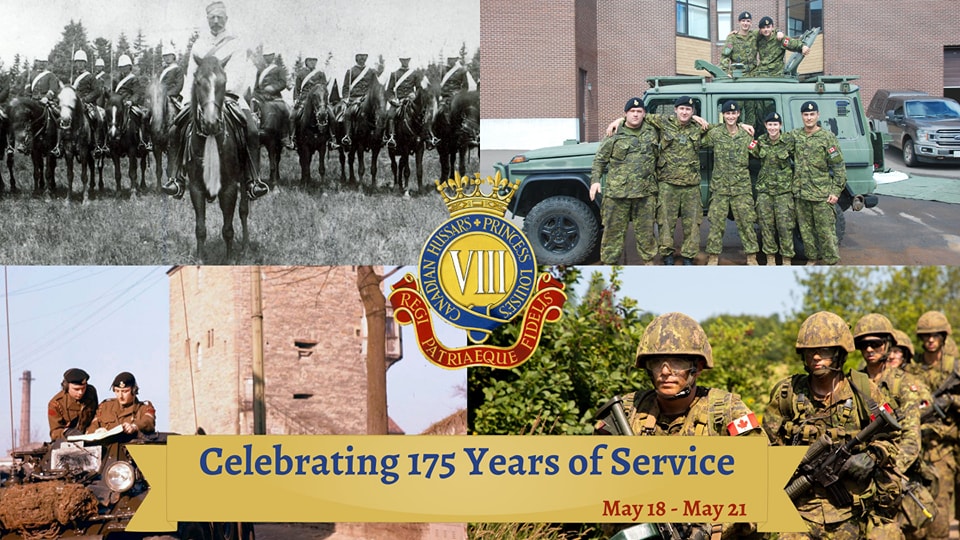 PUBLIC NOTICE for SUNDAY, 21 MAY 2023
On 21 May 2023, the 8th Canadian Hussars Regiment will celebrate its 175th anniversary, as the oldest continuously serving Cavalry Regiment in Canada. Additionally, the Regiment will commemorate its long-standing relationship with the Netherlands by hosting the Dutch Ambassador and incorporating the raising of the flag of the Town of Eelde, Netherlands as part of its 175th anniversary celebrations.
The Residents and Visitors to Sussex should expect minor disruption of normal traffic flow as part of the Town's participation in this important commemoration. The Town has implemented a Detour of traffic on and around Broad Street to provide an event zone to mark this important event. This closure will be very much similar to the annual November 11th events undertaken by the Town. The time of when the detour will be in pace will be announced
The Town has also authorized a temporary closure of a portion of the fields at Princess Louise Park between the hours of 8:00 am until 1:30 pm to facilitate orderly ingress and egress by air of dignitaries of the event. To this end there may be minor delays experienced for escorted traffic from the fields to the event centre.
The following is a preliminary itinerary of the event planned at the 8th Hussars Museum, Train Station, 65 Broad Street Sussex, NB for Sunday May 21, 2023.
The town apologizes for any inconvenience this may cause and we look forward to being part of this important commemoration and the long standing military tradition of the Sussex Region.
SUNDAY, 21 MAY 2023, Tentative.
VIIICH ANNIVERSARY PARADE & FLAG RAISING – SUSSEX PARADE PLAN
1. 8CH soldiers form up at debussing location: 1030hrs
2. 8CH soldiers march on at the Sussex Museum 1040hrs
3. 1st General Salute 1054hrs
4. 2nd General Salute 1057hrs
5. HRH arrives, Royal Salute 1100hrs
6. Inspection by HRH 1104hrs
7. Ceremony of flag raising:
a. Carry of flags to the south side of platform 1120hrs
b. Flag raising 1125hrs
c. Address by HRH to the Regt and City 1135hrs
d. Address by the Dutch Ambassador 1145hrs
e. Address by Mayor 1150hrs
f. Response by HCol 1155hrs
8. Three Cheers by the Regt to the Citizenry 1200hrs
9. 8CH March Past and Parade through streets 1205hrs