PRESS RELEASE: Flood Mitigation – Gateway Mall Berm
| | |
| --- | --- |
| | PRESS RELEASE Friday November 15, 2019 |
Sussex building a wall to keep flood waters at bay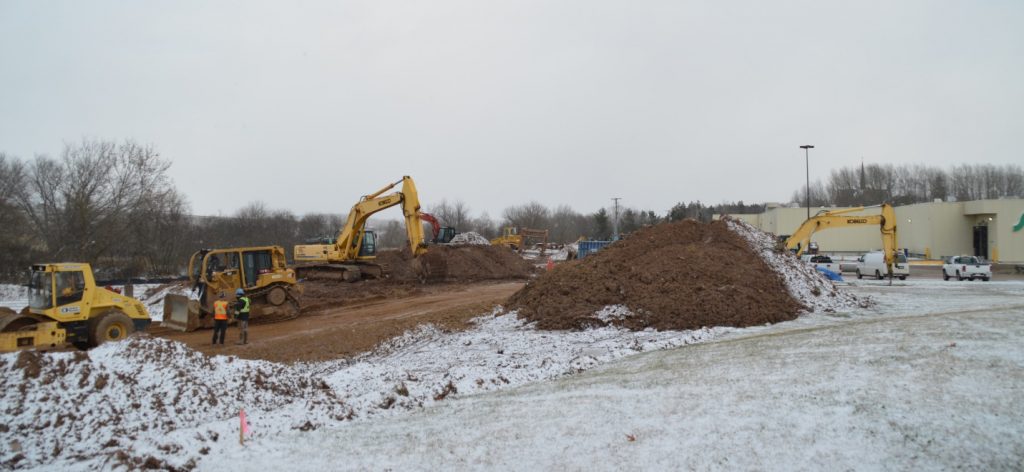 Photo caption
A berm is being constructed along the Kennebecasis River behind the Gateway Mall to help ward off future flood waters in that commercial area hit hard by surface water in 2014. The $1.2-million project, funded equally by the federal government and the Town of Sussex, is part of a larger flood mitigation plan for Sussex. (Photo submitted by the Town of Sussex) Gateway Mall berm is the starting piece of a bigger plan to mitigate future surface water destruction.
SUSSEX -A long-term remedy to the persistent surface water flooding Sussex has faced is taking its first steps. And while the construction of a $1.2-million berm behind the Gateway wall in itself will not provide all the necessary fixes, it will go a long ways to a more trouble free future, says Town Chief Administrative Officer Scott Hatcher.
In the past decade flood disasters have reached new levels nationally, Hatcher pointed out, and while solutions are costly, they are necessary to ease the burden on property owners. "This work on the berm is the beginning of a much larger solution being developed. That bigger plan will be controversial, it will be cutting edge in engineering and it will be a real solution to our growing problem of surface water flooding," Hatcher said. "We all had to ask ourselves 'are we going to live this way or are we going to adapt? At the end of the day council identified that people choose Sussex as a place to work, play and grow, as they cannot do that if they are constantly concerned about their properties."
There are few things worse than the devastation of a flood, said Mayor Marc Thorne, and no one knows that better than the people of Sussex who have made national headlines for its rising waters. In April 2014, business and home owners were hit hard by flood waters, and there have been several episodes before and after. "Flooding is devastating for property owners…robbing them of their sense of security and leaving them traumatized at the loss of belongings that simply cannot be replaced," Thorne said.
That flood caused $1.4 million in damage to Town-owned infrastructure alone, and of that about $700,000 was not covered by insurance, Hatcher explained. That is a big hit to a small Municipality, especially when flooding insists on repeat performances. Private property owners in the region faced damages in excess of $17 million to what they owned. "People were made whole again through the federal disaster financial assistance program but there was a bigger problem that had to be addressed to mitigate flooding long-term," Hatcher said. "Otherwise we will continue to see the same thing happen over and over again. "What we're hearing nationally is flooding is the new fire," he added. "Climate adaptation means we are seeing an increase in flooding events. We either adapt to it or resign ourselves to live with that fact that every couple years our properties could be under water. From what we have been told time and time again, people need for the Town to do what it can to make this better."
On the west end of Town, the Gateway Mall and businesses in its vicinity swam in high water. Sobeys was hit hard, as was Smittys in its separate business nearby. Owner Arin Thompson is applauding the Town for its efforts now to improve a berm at the rear of the property, and its plan for a more widespread, long-term solution. Her restaurant suffered over $600,000 in damages and was closed for three months at the time. "Because we flooded we lost our flood insurance so now, every year for us we just monitor and wait," she explained. "Any effort the Town makes to help the businesses here, we appreciate it so much. "Yes, we're a small business but there are 15 families that rely on us being open. Of them five are single parents and this is their livelihood." Thompson grew up in Sussex and several of her own family members work at the restaurant. The Town has a viable commercial area, Thorne pointed out, and the hundreds of jobs it offers is critical to families. In addition, those businesses contribute hundreds of thousands of dollars to the tax base that helps residents pay for services.
On the heels of that most significant flood five years ago, the Town engaged engineering firm RV Anderson to study the problem and develop modelling to paint a clearer picture of where the biggest issues lie, and from that a technical review committee comprised of retired Sussex engineer Bud Pearson, former Town CAO Mike Cummings and Hatcher was formed to sort through the findings. The study identified a partial berm behind the Gateway Mall that, if it extended further along that stretch of the Kennebecasis River, could have been a major help in stopping those April 2014 flood waters from rising so high that they spilled onto the mall parking lot, causing what Hatcher calls extraordinary damage to the businesses there. Around the same time the study was wrapping up the federal government was reaching out to affected communities looking to support projects that could help mitigate future flooding. "Regardless of flooding from surface water there's a wholesale issue with groundwater flooding in the community that just won't go away on its own," Hatcher said. "This means there will be no end in site for those people who have had to endure basements full of water time and time again.
"Council decided if we have infrastructure now, which we do in the case of this berm, let's enhance it so it works when we need it to work." The federal government approved the $1.2 million project more than a year ago. Ottawa will pay half of the bill, and the Town the other half. "The funding was approved but council still debated whether that was the right way to go," Hatcher said, because while the berm would address part of the issue with surface water flooding in the mall area, it wouldn't solve the same problems elsewhere in the community where the river swells, and it would do nothing to address the trickier problem of groundwater flooding. "Everyone can identify it's a difficult problem to fix but the switch that was turned on to send us down the path to accepting this federal funding and getting to work on the berm happened in January of this year. We saw firefighters up to their belt buckles trying to help people, we watched ice coming down the river the size of mattresses and we knew it was time to get started with what we could to put surface water flooding behind us. "That was the turning point of the debate."
The Town awarded the contract to Fairville Construction of Saint John for the construction of the mitigation berm, and subcontractor on the project is E.J. Cunningham. Their heavy equipment has been at work behind Sobeys since late October. The project will wrap up next month. Meanwhile, the Town and the village of Sussex Corner, which has endured similar flooding problems, are working together with RV Anderson consultants on developing a master plan that will be revealed to the public in the coming weeks. "If we can get this started and get it moving, in five years we can put our problem of surface water behind us," CAO said. "But it is lofty, it is expensive, and it will take the engagement of our property owners affected." "We understand that many in our community believe that dredging the creek is the simple answer to flooding but it's not," Thorne added. "Dredging can be helpful in reducing the chances of ice jams but that hasn't been our issue." Dredging, he said, would only serve to increase the depth of water in the creek for a year or two and do nothing to lower the water level or do anything to increase capacity when flooding is imminent. "We're determined to create a permanent solution and believe we may have found a way," the mayor said. Hatcher hopes the next step will be to collect a group of property owners with "skin in the game" to fine tune a larger strategy that could involve changing the channel of an old stream bed that digital terrain models show exists across the highway at Route 1.
"The problem is solvable, and we know that solution is upstream, but it is expensive at upwards of $20 million," Hatcher said. "But we also know that a $20 million fix, a $15 million fix, and $10 million fix, a $5 million fix …regardless of the cost it's a lot of money for our Town. For now, the Gateway Mall berm is going to be strengthened and extended, as well two substantial, trailer-mounted pumps will be purchased to move onto the site to physically pump and transport flood waters back over the berm to the river side if they spill over during major events…a first step on a long road
Scott M. Hatcher, P. Eng.
Chief Administrative Officer, Town of Sussex