8th Hussars 175th Anniversary Parade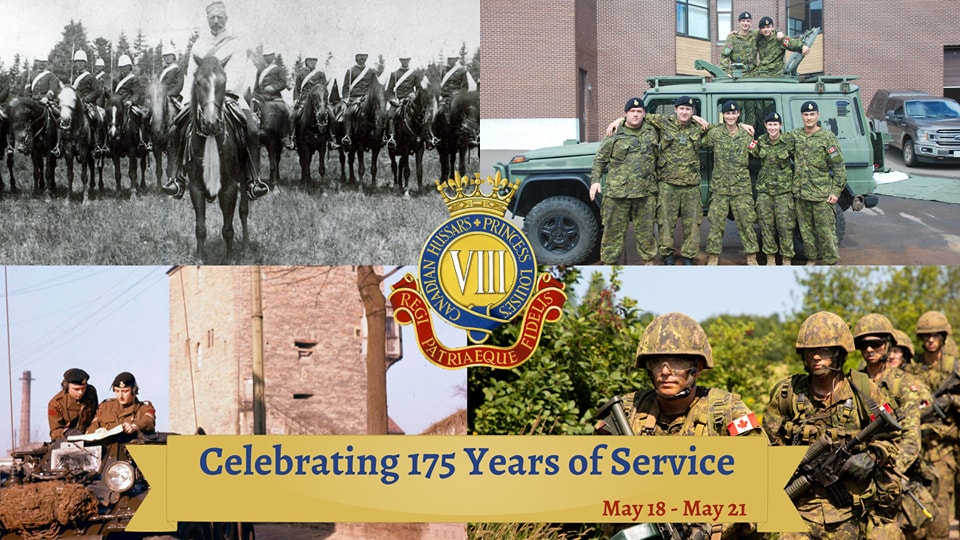 Date

May 21, 2023

Time

10:30 am - 12:30 pm

66 Broad Street Sussex, NB E4E 5S2
A celebration 175 years in the making! The 8th Canadian Hussars – Princess Louise's regiment will celebrate its 175th year anniversary with its' Colonel-in-Chief, Her Royal Highness The Princess Royal. Joining her will be the Dutch Ambassador to Canada, Ines Coppoolse.
Activities to include a parade, Royal Salute and Inspection, flag raising ceremony, and plaque unveiling to mark the occasion.
The public are welcome to join Mayor Marc Thorne in welcoming our guests by gathering near the cenotaph (islands) on the northern side of Broad Street.
Please note that Broad Street will be closed from 8am until approximately 12:30pm on this date.
VIIICH ANNIVERSARY PARADE & FLAG RAISING – SUSSEX PARADE PLAN
1. 8CH soldiers form up at debussing location: 1030hrs
2. 8CH soldiers march on at the Sussex Museum 1040hrs
3. 1st General Salute 1054hrs
4. 2nd General Salute 1057hrs
5. HRH arrives, Royal Salute 1100hrs
6. Inspection by HRH 1104hrs
7. Ceremony of flag raising:
a. Carry of flags to the south side of platform 1120hrs
b. Flag raising 1125hrs
c. Address by HRH to the Regt and City 1135hrs
d. Address by the Dutch Ambassador 1145hrs
e. Address by Mayor 1150hrs
f. Response by HCol 1155hrs
8. Three Cheers by the Regt to the Citizenry 1200hrs
9. 8CH March Past and Parade through streets 1205hrs